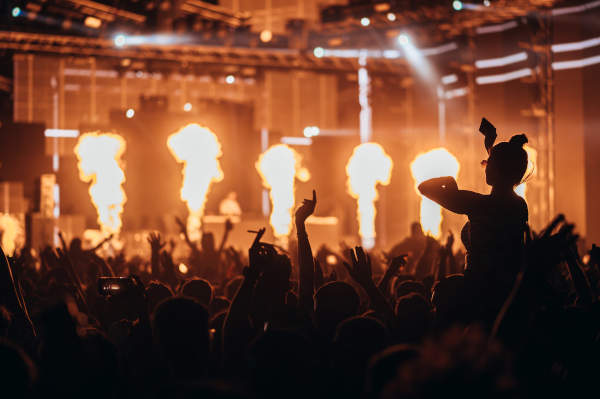 10 Most Infamous Fights in the Music Industry
10 most infamous fights in the music industry
Celebrity brawls are entertainment, which can come from music, film, and the sport industries. Some feuds can be one-on-one, diss tracks, and so on. Here let's look at the 10 most infamous fights in the music industry.
1. kanye West vs Taylor Swift
Embed from Getty Images
As we all know, Kanye West craziness did not start today. One of his roaring moments is when he invaded the stage after Taylor defeated Queen B at the 2009 VMAs, winning best female video. Kanye disagreed and said the award should have been given to Queen B, but later that day, Queen B brought out Taylor to finish her speech.
After the award, Kanye apologized to Taylor because of the offensive remarks he received from other celebrities. He apologized to Taylor privately, but later in 2013, Kanye took back his apology in an article in the New York Times, saying he did not have any regret for his actions in interrupting her on stage. But the article was'nt that popular.
In 2015, Taylor and Kanye reunited at the Grammys. That same year, Kanye was up for the vanguard award and wanted Taylor to present him with the award. After asking Taylor to present him with the award, Kanye goes on stage to accept the award, but makes it look like the VMAs made her give him the award for their rating.
But In her interview with Rolling Stone in 2019, Taylor let people know that Kanye asked her to present him with the award.
2. Remy Ma vs Nicki Minaj
Nicki Nicki Nicki Nicki We all know the rap queen fight has been on for years between Remy Ma, Lil Kim,and Nicki Minaj. In February 2006 Remy Ma released her debut album There is Something About Remy.
In her first week, she sold over 35,000 copies and peaked at number 33 on the Billboard 200. One of her tracks on the album is called "I'm" She refers to herself as the Queen of Rap, and there is no one higher. In July 2007, Nicki Minaj released a mixtape called "Playtime is Over".
In one of her tracks called "Dirty Money, she said, Tell that bitch with the crown to run it like Chris Brown. She won three rounds, I'ma need a hundred thou. Oh, y'all don't know? Bet y'all bitches know now. But later on, Remy talks positively about that freestyle in her interview, so everybody believes they are still friends.
In August 2007, Remy released an album called "Jesus Christ". There was a track on that album called Queen of NY which she refers to as her title. On May 13 2008, Remy was found guilty of first-degree assault and she was sentenced to 8 years in jail for shooting a friend who stole $3,000 from her purse. While Remy was in jail, Nicki had been coming up in the game, and she showed love to Remy in all her interviews.
In May 2014, Remy was interviewed after being released from prison and She talks positively about Nicki, but before that time, Nicki was already well-known abroad. Remy released a diss track called "Wait a Minute" in November 2016 in which she said, Will I smoke this bitch? Yes, I will probably fail my piss test," Get rid of those fake breasts", referring to rumors that Nicki Minaj got her breasts through surgery.
After all, Remy was asked in an interview if she was dissing Nicki, but she denies it, and then less than a week later, Remy released "shether" a Nicki diss track. However, the Queens never stops disparaging each other.
3. Selena Gomez vs Justin Bieber
Embed from Getty Images
Beautiful Selena and Justin have been lovers from a young age, and they both had trouble keeping their relationship private. Selena accuses Justin of being emotionally abusive. They had a long, messy, on-and-off relationship. At first, their relationship looked perfect. All of a sudden, Justin's gradual change of style and his personality changed at the same time.
Later on, rumour has it that Justin cheated with Barbara Palvin, a Victoria's Secret model. Then, in 2013, there was a rumour that Justin cheated with a married woman Jordan Ozuna. In 2014, Selena was diagnosed with lupus and went to rehab for chemotherapy. Meanwhile, Justin was out clubbing with another girl, they later reunite in 2018 but later break up.
The reasons for their split have not been revealed, but in addition to various reports claiming issues with trust and family pressure led to their separation most fans believed they would get back together, but to no avail Justin got engaged to Hailey, and after two months, they got married.
4. Little Mix vs Jesy Nelson
Jesy Nelson, Perrie edwards, Leigh-Anne Pinnock, and Jade Thirlwall were members of Little Mix Band, one of the best-selling girl groups in the UK. Nelson announced her departure from the band in order to focus on herself (mental health). After the announcement, the remaining 3 members let their fans know they would continue making music as a group in 2021.
The remaining members dropped their first song as a trio, called "confetti" remix of their 2020 song. Later that year, the band announced their album "between us." While Nelson, the former member, worked on her new music and released her first single "BOYZ" featuring Queen Nicki, after her release, she was accused of blackfishing, which means a non-black person using makeup or other means to look black.
Nelson responded to the accusations in her interview that she loves black culture. Shortly after the interview was published, Little Mix fans noticed that the other 3 members of the group had unfollowed Nelson on social media.
In another interview with Nelson, she admitted that she and her former band members are not talking anymore, and she is not happy with that. Furthermore, she said there was no bad blood from her side and she also wished them well.
5. Saucy Satana vs Beyonce
Saucy satana was accused of disrespecting Beyonce over an old tweet back in 2014 when he called Blue Ivy (Beyonce's first born) nappy headed or ( eyeball emoji) Beatking tweeted and wrote to Saucy to apologise, but Saucy was not for it at all, replying to Beatking saying "bruh you dead as just texted tryna get me to help you get a song with Caresha, that means you got my number.
Don't speak to me publicly with no bullshit trying to get a moment, You could've texted that or had no comment at all. From there, Saucy addressed the old tweet situation with a series of tweets.
6. Vector vs M.I
M.I and Vector, Nigerian Rap Kings, have been at odds for over 7 years. Even though they had a silent feud, the Rap Kings were shining brightly at the time. It was in 2014 when M.I turned down Vector's request for a feature on one of his mildly successful single tracks.
After that track, it took Vector 6 years to show his feelings on M.I's turning down his request, which came with a diss track called "The Purge". Then, after some weeks, Vector dropped another diss track called "Tetracyling".
After the track, fans waited for M.I's response, but after days he responded with his diss track called "The Viper" in which he said in that track "I will not destroy you instead I will give you maturity". After that track, fans believed M.I had silenced Vector.
Unfortunately, after a few days, Vector responded with his diss track called "Judas the Rat." He responded to M.I's claims, but for now it seems the beefs between the rap kings is over.
7. Zlatan vs Cuppy
Zlatan "Ibile" and disc jockey Cuppy ("gelato") crooners are friends, according to Cuppy. She said she was left in the dark about what happened to their friendship breakup. She stated on her Twitter, saying, "10 months later and I sometimes still wonder why @zlatanibile blocked me on WhatsApp and Instagram without ever saying why. We were actually friends, and Gelato was a hit later, after the tweet.
The reasons for Zlatan's action were explained by Davido's personal assistant. According to Davido PA, he said Cuppy did not compensate Zlatan for his effort on the hit song "gelato" and also that Cuppy did not compensate him after he performed at her fundraising event in Abuja. According to him, Zlatan used his personal money to care for everyone who went with him to the hotel in Abuja.
However, it appears that the gelato singers have reconciled.
8. Shatta Wale vs Burna Boy
According to premiumtimesng, it all started in 2021 when Shatta Wale addressed his fans at the Green Lounge in Tema, Ghana. He threw shade at Nigerian musicians after selling out the Accra Sports Stadium for his concert. He said he does not look up to stupid Nigerian artistes, that he only looks up to his fans. That same year, Grammy winner Wizkid sold out all his concert tickets in Ghana and addressed the Shatta Wale rant during his performance.
He said Nigeria, Ghana, and Kenya are all the same. Burna Boy responded to Shatta Wale's rant by posting on his Instagram story, "Therefore, if Shatta or anyone has a personal problem with me, I'm still open to fighting one-on-one." After Burna Boy responded, Shata Wale responded back as though he had been waiting on his response. He then dared Grammy winner Burna to a one-on-one challenge in a stadium in Accra, Ghana.
That same year, Shatta Wale told Burna that fighting him was a waste of time, but Burna did not answer. While we all assumed the beef between Burna and Shatta was about Nigeria and Ghana music, according to premiumtimesng there was more to it.
9. Kashy vs Barry Jhay
Kashy and Barry Jhay were among the celebrities feuding, though Kash and Barry Jhay maintained their friendship for years until death came in. March 2021 Barry Jhay shared a video of his mouth full of blood after an assault by Kashy when they both had a misunderstanding.
Shortly after the release of the video, Kashy was reported dead. Various claims were made that Barry killed him some said he fell from a building. Barry was later arrested in Ghana, where the incident happened, but was later released following a probe.
10. D'banj vs Don Jazzy
Embed from Getty Images
The celebrity feuds between Lengendry D'banj and Don Jazzy started after they could not agree on terms regarding their label. The two legends founded mo'hits record in 2004, and mo'hits was one of the biggest music labels in Africa. It also gained international recognition by foreign artists. As they both enjoyed their success, D'banj considered expanding mo'hits, but Don Jazzy had other ideas. Then D'banj left and signed on to Kanye West's record label while Don Jazzy recreated Mo'hit and named it Mavin.
Conclusion
Do not be toxic or abusive to people, kindness does not cost a dime!
Reviews
Sharing
Tags